2mm Modern Silver Stackable Ring
Regular price
$28.00 USD
Sale price
$18.00 USD
Unit price
per
Sale
Sold out
2mm .935 Argentium Silver Stackable Ring. 100% Handmade from wire to ring and hand stamped. A quick glimpse in the listing video is part of my process of how this ring is created. The ring is handmade and may contain slight imperfections as it is not mass-produced from a factory. Each ring is made to order per your specific ring size.
Argentium Silver is a more modern and superior form of Silver Jewelry that contains many benefits listed below:
• Environmentally Friendly - Argentium Silver is made from 100% recycled silver which makes it kinder to the environment and a sustainable precious metal.
• Argentium Silver is purer form of Silver than Sterling with a .935% Silver content which means it is brighter and whiter than traditional sterling silver.
• Highly tarnish resistant. This form of silver is less likely to tarnish as much as sterling and will require fewer cleanings.
• Finished jewelry made in Argentium is harder, stronger and more durable than traditional sterling silver.
Band Specifications:
These bands are flat without a comfort (contoured) fit on the inside. Each ring is created at approximately 2mm in width and 1mm or less in thickness, which is a very comfortable fit between your fingers.
📏 Sizing and Width:
Don't know your ring size? Select the Universal Ring Sizer option in the Ring Size drop-down menu and I will send you a universal ring sizer.
📏 If you choose to not order ring sizers from my shop, it's recommended that you visit your local jeweler, preferably multiple jewelers at different times of the day. Our fingers fluctuate in size throughout the day. Also, a wide band will fit more snugly than a thin band. If you know beforehand, try on a ring that will be the same width as the one you plan on ordering.
❇️ Ring Care:
These rings are very durable and are fine to wear when washing hands, etc.
❇️ Returns:
Full refunds are provided in the event that you are not satisfied with your ring or if you opted not to utilize the complimentary ring sizers and ordered the incorrect ring size. Your refund will be provided once the item is shipped back to Elemental Designs and found to be in good condition.
❇️ Shipping outside of the United States:
Please be aware your country may charge additional customs duty and/or import taxes. The recipient of the merchandise will be required to pay these upon delivery. Sellers cannot possibly know all the fees for every country and have no way of paying fees imposed by your country.
Shipping & Returns

❇️  All Rings ship free via USPS. Upgraded shipping options are available at checkout.

❇️  Returns:
If the ring does not fit, a new ring will need to be made as these rings are not adjustable. The ring would need to be returned to me and a 25% restocking fee would be required to cover costs of the materials and time spent on the new ring to be made.

❇️  Shipping outside of the United States:
Please be aware your country may charge additional customs duty and/or import taxes. The recipient of the merchandise will be required to pay these upon delivery.
Care Instructions

Things to avoid:

1. Do not store in direct sunlight for prolonged periods of time. Long periods of extreme heat may affect the finish and inlay of elements. ex: high heat from a dryer, jacuzzi or prolonged periods in a hot car.

​2. Avoid sharp or abrasive objects. I recommend removing rings before doing any cleaning, house or garden work that involves sand, stones, metal sponges or brushes.

​3. I recommend removing your ring before applying perfumes, lotions, shampoos, soaps, nail polish to preserve the finish of the ring. Plated gold rings will remain plated longer without these additional chemicals.

​5. Harsh Chemicals such as cigarette smoke, certain cleaning agents and alcohol-based products such as acetone and nail polish remover can harm the finish of your ring. Very strongly recommend removing your rings before coming into contact with these chemicals.

​6. Avoid swimming in pools, oceans, lakes, or any body of water while wearing your ring.

Cleaning:

If you need to clean the ring or give it a light polish, a damp microfiber or chamois cloth will do the trick. You can also clean it with water and a mild soap such as dish soap. A little goes a long way with soap so please limit its use and make sure the ring is thoroughly rinsed and dried before wearing again. Do not clean Tungsten rings in an ultrasonic cleaner as it can damage the metal.

Storage:

When you want to store your jewelry, it is best it is kept in an airtight container. Store the container in a cool, dark and dry area.
Share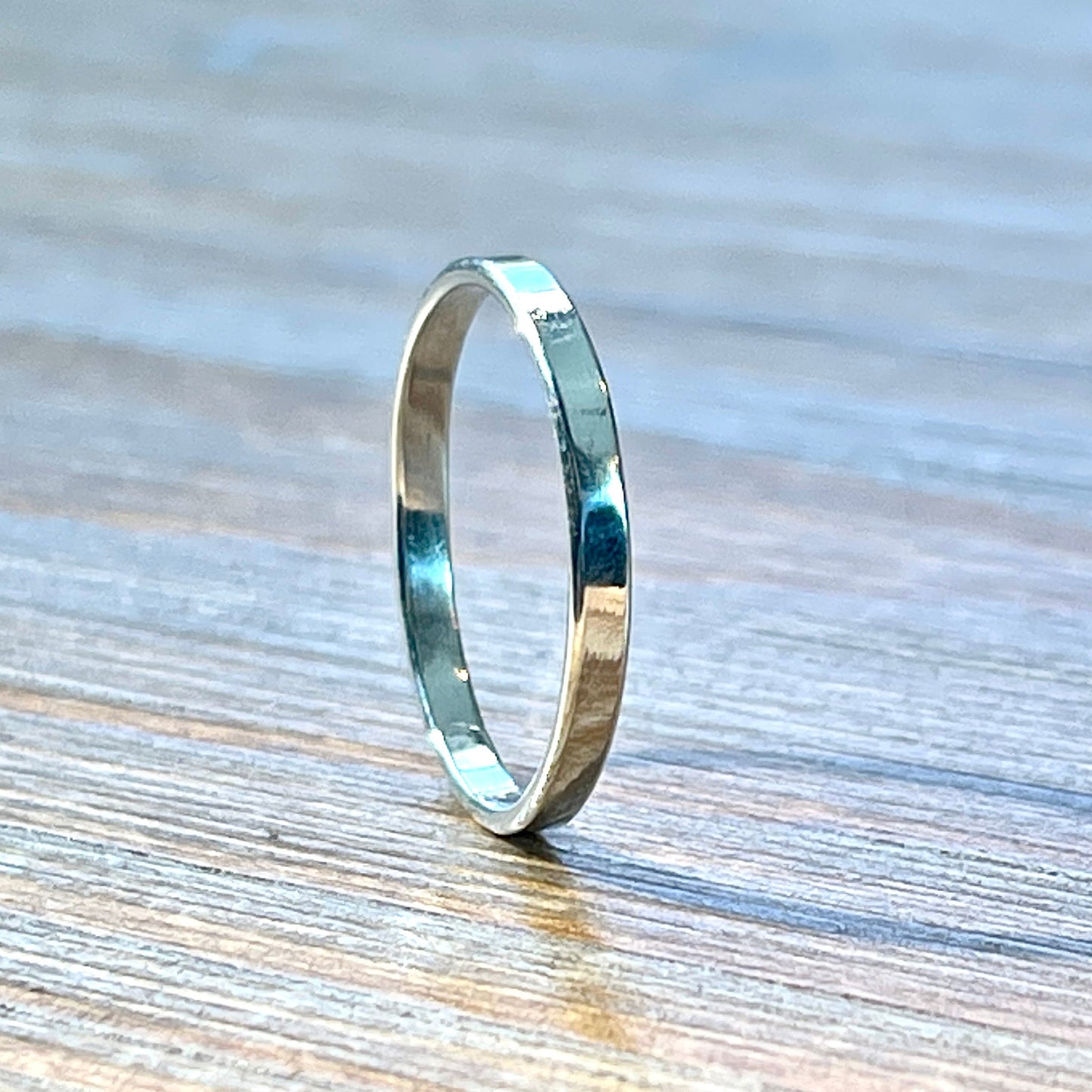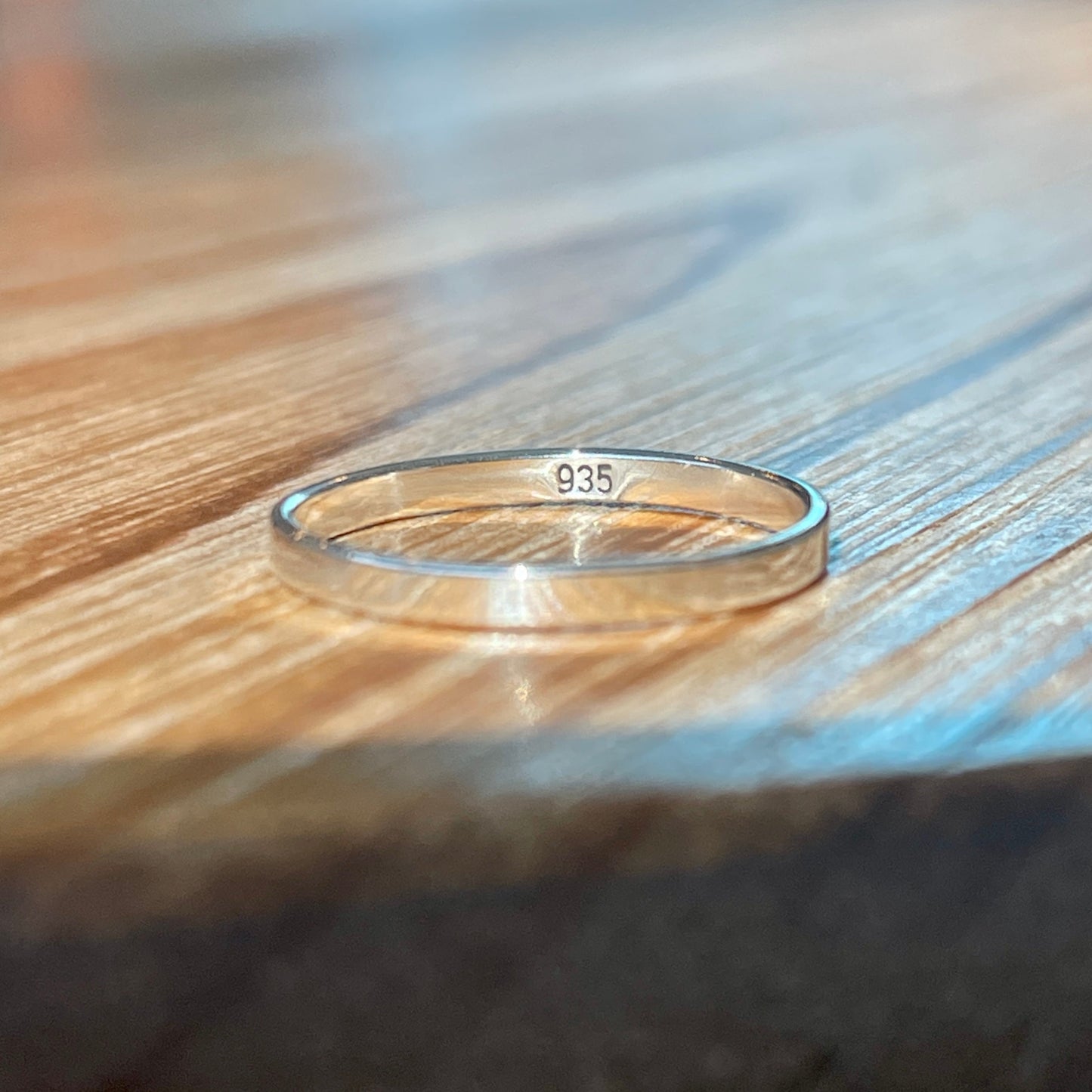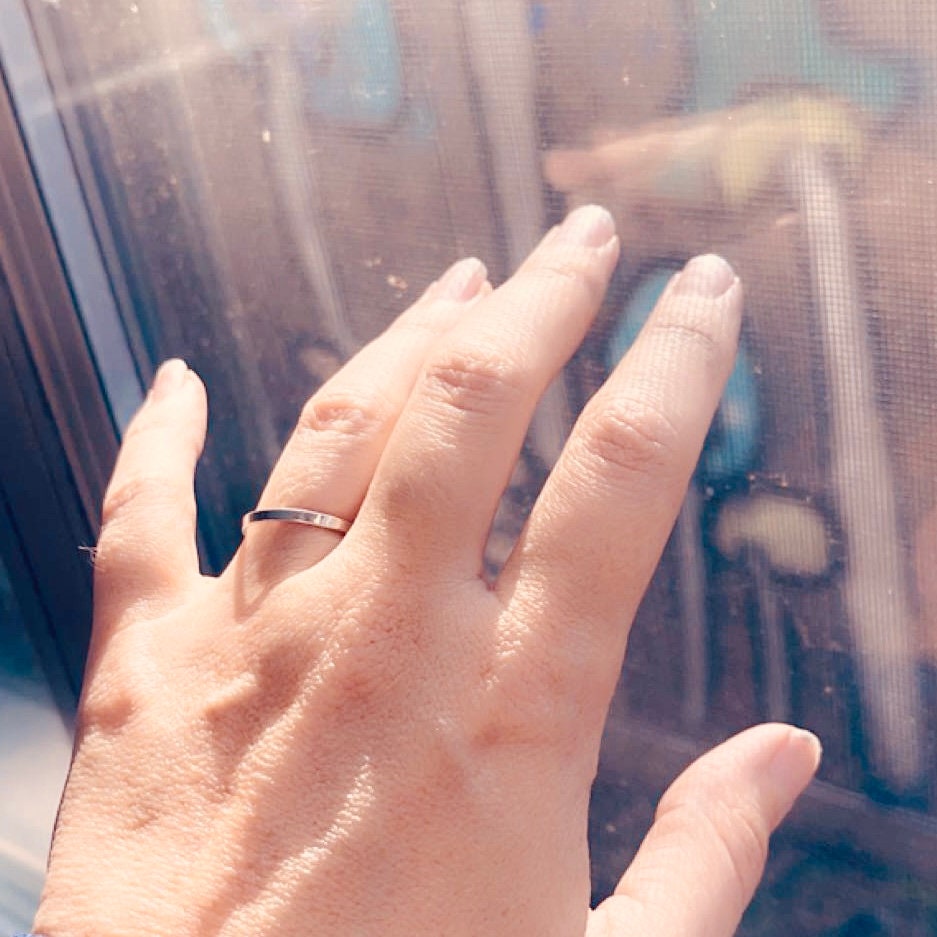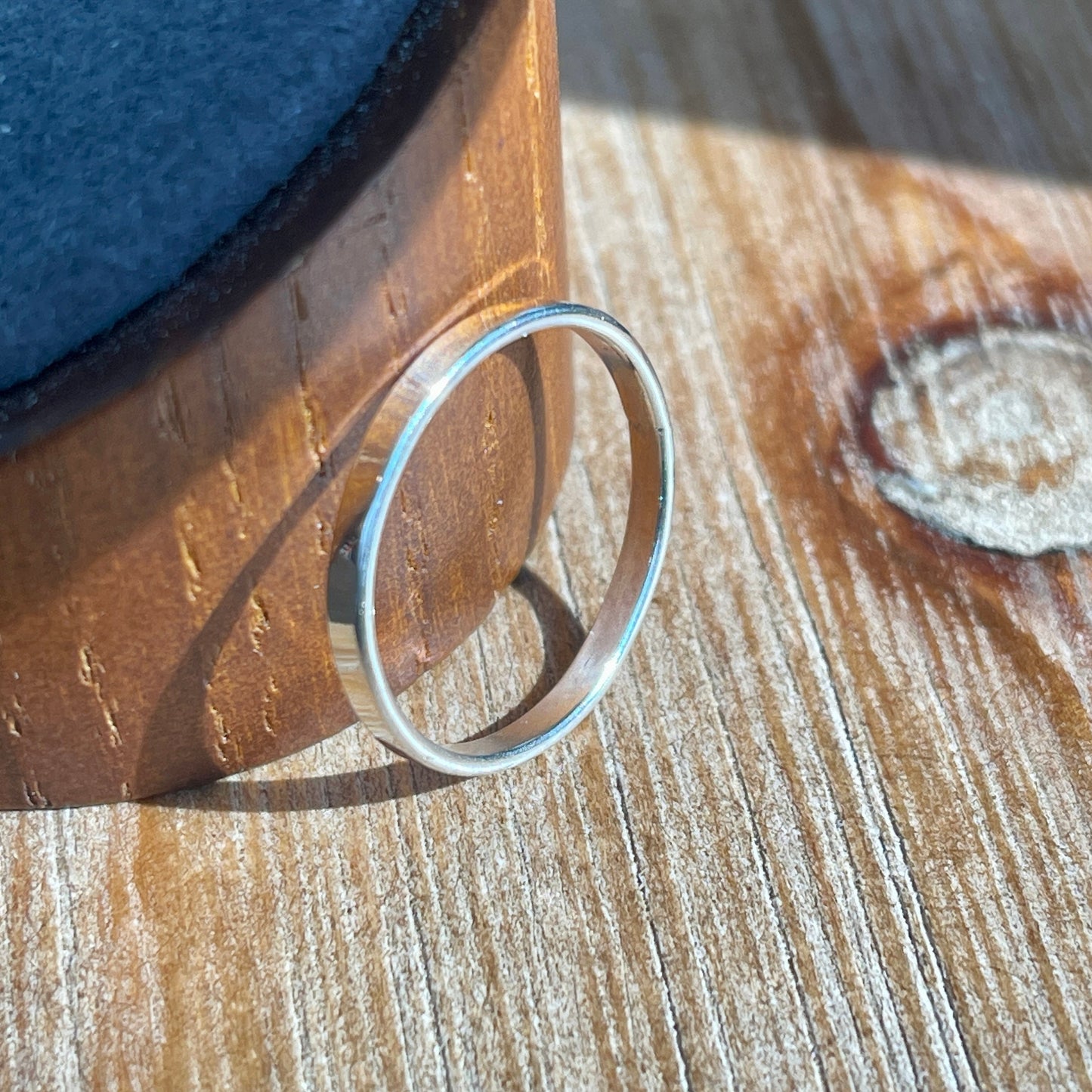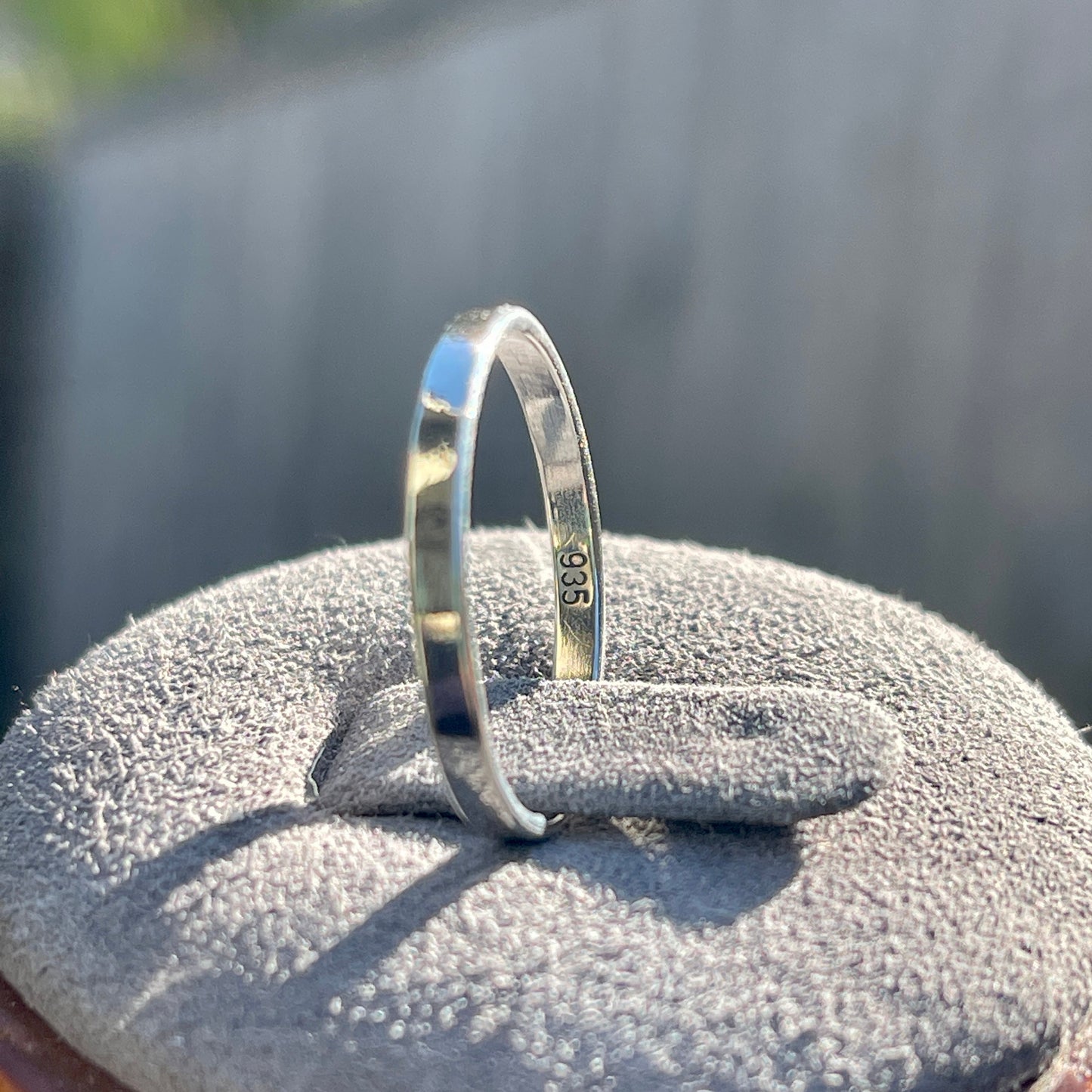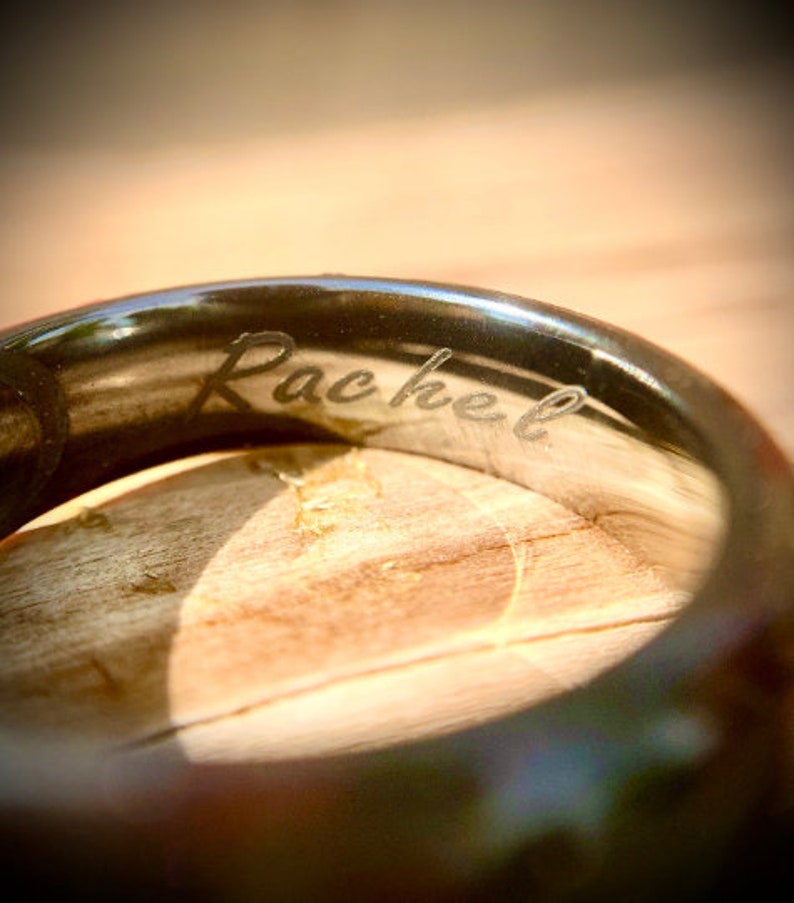 Complimentary Engraving Included
Make it personal! Complimentary engraving included for every ring. Additional fonts and symbols available upon request.